"Roff, roff, roff, roff" and "aroooroororoororroorooroororoooroooroooro" filled the air for two straight days in Orangeburg, South Carolina, for the 49th Annual Grand American Coon Hunt. Black and Tans, Blue Ticks, Plott Hounds, and a few random terriers populated the fair grounds. It was a triumph of working animals completing tasks with efficiency and flair, and a celebration of the bond between people and their dogs.
An unusual cold snap this year kept the town under 40 degrees and everyone was bundled up: puppies snuggled in their humans' coats, and people could be seen running a warm hand along the side of their trusted companions.
The fairgrounds became a collage of camo, even more dazzling since the rise of digitally printed patterns, as approximately 30,000 people shopped, ate, chatted, and showed off their dogs. There were dog crates painted to look like the General Lee, and GPS trackers and custom belts were for sale. A young mother fit a newly purchased coonskin cap onto her daughter's head and then chuckled, saying she better take it off so no dogs chomp on her head mistakenly. The line at the donut hut never ceased.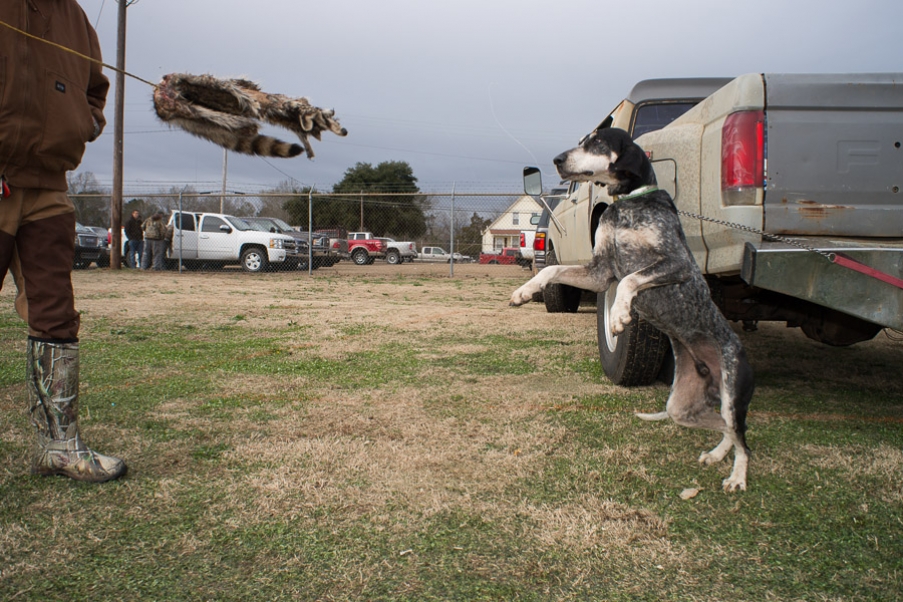 Freshly groomed dogs were judged by the United Kennel Club, while others came for the fun of night hunts, or the daily treeing contests. While the live raccoons used to rile the dogs up were definitely frazzled, all of them had a reprieve for the weekend for the sanctioned events.
It was thrilling to see all the history. Dogs sat in front of hand-written lineage charts that often bore forefathers with the name of Moonshine who were champions in their time. Parents showed their children how to handle their dogs in a crowd. Many daughters were perched upon their fathers' shoulders. Old men swapped stories. Next year will mark the 50th anniversary of this event, and it is easy to imagine 50 more years.